Realizing flexible bioelectronic medicines for accessing the peripheral nerves – technology considerations
Bioelectronic Medicine
2018
4:8
Received: 22 February 2018
Accepted: 13 June 2018
Published: 26 June 2018
Abstract
Patients suffering from conditions such as paralysis, diabetes or rheumatoid arthritis could in the future be treated in a personalised manner using bioelectronic medicines (BEms) (Nat Rev Drug Discov 13:399–400, 2013, Proc Natl Acad Sci USA 113:8284–9, 2016, J Intern Med 282:37–45, 2017). To deliver this personalised therapy based on electricity, BEms need to target various sites in the human body and operate in a closed-loop manner. The specific conditions and anatomy of the targeted sites pose unique challenges in the development of BEms. With a focus on BEms based on flexible substrates for accessing small peripheral nerves, this paper discusses several system-level technology considerations related to the development of such devices. The focus is mainly on miniaturisation and long-term operation. We present an overview of common substrate and electrode materials, related processing methods, and discuss assembly, miniaturisation and long-term stability issues.
Background
In the context of this paper, bioelectronic medicines are devices that use electricity to regulate biological processes, treat diseases, or restore lost functionality (Birmingham et al.
2013
; Koopman et al.
2016
; Bouton
2017
). BEms can interact with excitable tissue in three distinct manners: they can induce, block and sense electrical activity. Depending on the application, i.e., the specific disease being treated, a combination of these functionalities might be necessary. For example, a system offering complete control over the urinary tract could require initiation of voiding (activation) in a timely manner using feedback (sensing), while avoiding involuntary voiding at all other times (blocking). However, the human urinary tract is complex and sophisticated; it includes our kidneys, ureters, bladder and urethra, and its natural control mechanisms pass through both the central as well as the peripheral nervous system (PNS). Restoration of full control of the urinary tract could therefore be possible via a variety of approaches; some of those could require a distributed wireless system of BEms, in which each unit is responsible for a specific functionality, but all are communicating and working together in a coordinated fashion to deliver the required therapy. For such an implementation, miniature (<1cm
3
) BEms placed close to their targeted nerves are required. These BEms, belong to a new generation of implants: they have to be of a compact unibody design (including a three-dimensional neural interface and the electronics), operate wirelessly (either standalone or in a distributed system), and in a closed-loop fashion, having stimulating, biomarker sensing and neural recording possibilities. Figure
1
illustrates an artistic impression of such a system.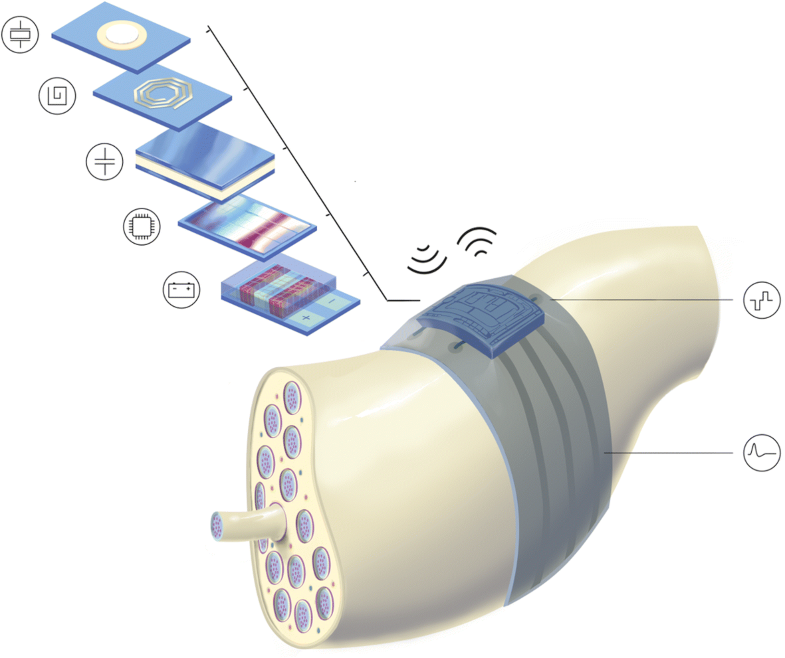 Interfacing the peripheral nervous system
The PNS consists of neurons whose bodies lie in the spinal cord but axons extend all the way to target organs. These afferent (sensory) or efferent (motor) nerve fibres can be myelinated or unmyelinated and are grouped together into fascicles, based on their destination rather than their function. A collection of several fascicles makes up a nerve. The organisation of fibres into fascicles changes along the length of a nerve, from fewer, larger and fused fascicles proximally, to a higher number of smaller fascicles distally. Also, the overall size and composition of peripheral nerves varies greatly; for example, the major and minor diameters of the compound femoral nerve are about 10.5 mm and 2.3 mm, respectively. In contrast, the diameter of pelvic splanchnic nerve bundles can be smaller than 0.05 mm, or larger than 0.2 mm (Gustafson et al. 2009; Jang et al. 2015).
Access to the PNS can be achieved at a varying degree of invasiveness and a varying degree of selectivity. Extraneural interfaces leave the nerve intact but usually target several bundles of axons or fascicles within it, hence offer lower selectivity. Such interfaces can be placed around or through a nerve root (book electrodes), on a nerve (epineural) or around it (cuff, helicoidal, FINE
1
) (Brindley
1972
; Koller et al.
1992
; Loeb and Peck
1996
; Tyler and Durand
2002
). When higher selectivity is required, interfaces tend to be more invasive. Approaches include minor penetration of the nerve without penetrating the fascicles (SPINE
2
); longitudinal (LIFE
3
) or transverse (TIME
4
) penetration of fascicles (Tyler and Durand
1997
; Lawrence et al.
2003
; Boretius et al.
2010
; Badia et al.
2011
), to access fibres of a single or multiple fascicles, respectively; as well as single units or arrays of needle-like interfaces that penetrate fascicles and aim to access even single fibres (Utah, Michigan and Twente arrays) (Branner et al.
2001
; Anderson et al.
1989
; Rutten and Meier
1991
). Figure
2
illustrates some examples of interfaces that have been used to access the PNS. For a thorough review on the subject the reader is referred to (Navarro et al.
2005
).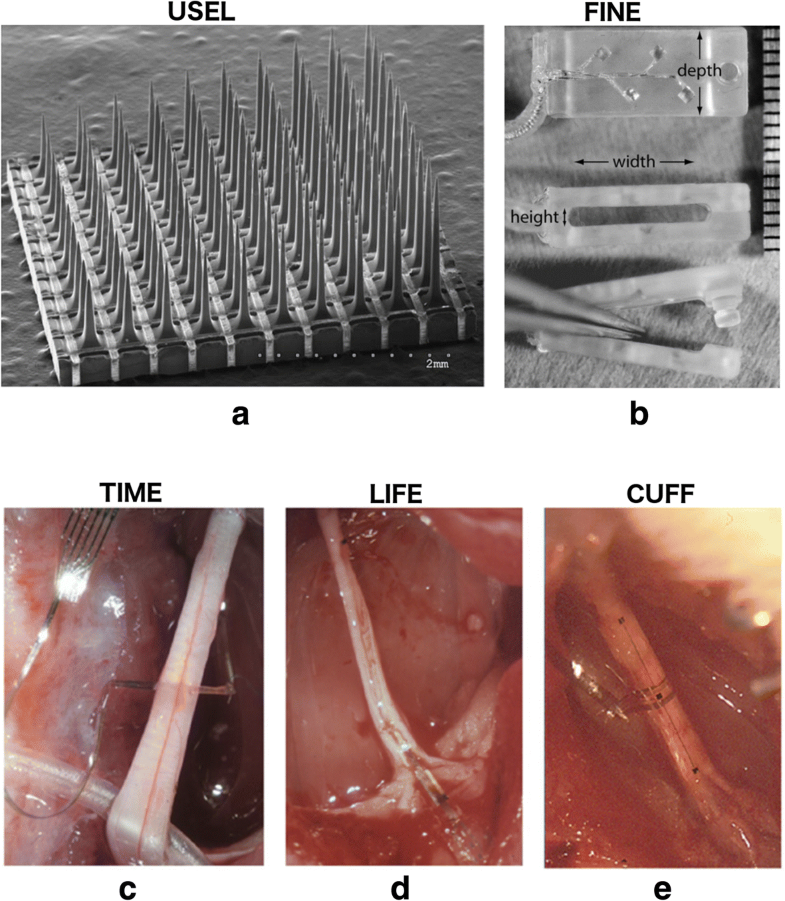 Stiff versus flexible materials
The hardware implementation of BEms, including the design, material selection and fabrication process, is largely dictated by the implantation site. More specifically, the size of the targeted tissue, its location within the body (e.g., deep vs close to the skin), the available area and anatomical structures around it (e.g., soft tissue, bones), the related mechanics, perfusion rates, as well as the surgical procedures, will all place additional requirements that the BEm needs to adhere to. BEms can be constructed from hard or softer materials, which define the implant's mechanical properties.
Hard implants have been extensively used for probes penetrating the brain (Moxon et al. 2004; Vetter et al. 2004; Rousche and Normann 1997), while they are also very well suited for attachment on hard structures inside the body, such as on teeth or bones, due to their similar mechanical properties, reflected by their Young's moduli. Silicon-based implants have the advantage of a fabrication process that is often compatible with standard complementary metal–oxide–semiconductor (CMOS) processes, resulting in easier electronic integration, with high yield and a high degree of miniaturisation. They are, however, stiff and rigid, and micromotion of the device might cause tissue damage (Alexander Arts et al. 2003). Despite the fact that modified designs tailored to the peripheral nerves have shown promising performance in long-term tests (Branner et al. 2004; Christenses et al. 2016), their use in the PNS is limited.
Softer materials match much better the mechanical properties of the surrounding tissue, and several of them have shown excellent performance during chronic implantation, with only mild to minor foreign body reactions (25). These properties are particularly important when designing implants for accessing the PNS. Interfacing with the peripheral nerves is challenging due to their often small size and fragile nature. State-of-the-art implants that target the PNS are, therefore, mainly based on flexible materials (Navarro et al. 2005). Many of them have shown promising performance in long-term in vivo tests (Sohal et al. 2016; Caravaca et al. 2017; Hara et al. 2016; Wurth et al. 2017; Pothhof et al. 2016). The majority of those implants are however passive devices, connected to remote electronics using long wires.
BEms are active implants
The envisioned operation of BEms is to deliver personalised therapy, which will require adjustment of the treatment and dosage, in a similar fashion as with conventional drugs (Birmingham et al. 2014). To this end, bi-directional communication and programmability are necessary, while safe and secure chronic operation is of utmost importance. Despite the fact that some on-site intelligence can be incorporated with the use of flexible transistors (Viventi et al. 2011), the level of maturity of such technologies is not yet sufficient to meet neither the foreseen processing complexity nor the strict requirements for clinical use. For these, high performance active electronics are necessary. Systems assembled from off-the-shelf components could provide a rapid prototyping solution, but these are neither area nor power optimised. We thus envision that application specific integrated circuits (ASICs) will be an integral part of the implant.
The development of active implants is, in many ways, more challenging compared to their passive counterparts. Even though integrated circuit fabrication technologies are well developed and characterised, hence high performance ASICs can be reliably made at high yields, translating these into implantable microsystems presents its own additional challenges, which, at the moment, do not have a universal solution. Referring to our envisioned flexible BEm for the PNS, illustrated in Fig. 1, and targeting a decades-long lifetime, we identify the following challenges: (a) ensuring that the presence of the implant does not cause any adverse effects to the tissue; (b) ensuring that the implant does not cause any adverse effects to the tissue during active operation; (c) achieving the spatial selectivity required for the application; (d) preserving the flexibility (or bendability) of the implant despite the rigid silicon ASIC; (e) reliably connecting the ASIC to the electrodes so that failure due to movement does not occur; (f) reliably protecting the ASIC and interconnects from the body so that failure does not occur; and (g) bringing enough energy deep inside the body to reach the BEm, while still keeping the volume of the implant small. Several of the above are shared challenges between passive and active implants, while some others are mainly application dependent. In this paper, we focus on the relevant technology considerations associated with the hybrid nature of these devices. We begin our discussion with common materials used as substrates and their processing and electrode requirements, before presenting the challenges related to the assembly, miniaturisation, and long-term stability of these hybrid implants.
Technology considerations
Conclusion
In this paper we discussed some of the most prominent technological considerations related to the development of flexible BEms for accessing the peripheral nervous system. This review is not meant to be exhaustive, but rather to give the reader a good round image of the related system-level technological challenges. We have focused on challenges related to the hybrid nature of these active microsystems, when miniaturization and reliable long-term operation are the goals. Technologies for developing flexible implants are clearly focusing on polymer processing, with some clear prominent candidates standing out because of their proven biocompatibility. Nevertheless, substrate processing steps need careful consideration, as they might adversely affect both the reliability, but also the overall biocompatibility of the implant. Electrode materials have moved from noble metals to advanced coatings, constructed by either different materials, or different geometries. Several of those exhibit good performance in vivo, both in the recording as well as in the stimulation domain. Their reduced impedance and/or increased electrochemical surface allow for denser electrode integration, hence higher specificity and further miniaturisation. For the targeted decade-long lifetime though, further characterization and testing is often necessary. Interconnecting lines are always an unwanted but necessary feature in all implantable devices. In flexible BEms, these need to be strong but at the same time well protected to avoid failures. Similarly, new protection methods for any active electronics are necessary. Large metallic or ceramic hermetic packages do not any longer fit in the miniature dimensions discussed here. Promising material candidates that could offer this protection include combinations of polymers and ALD ceramics.
In summary, this review discussed developments related to the need for miniaturization and safe long-term operation. Challenges, however, do not stop here. Many other major aspects, which were out of the scope of this review, remain unsolved. These include: (a) how to bring enough power inside the body to operate such systems wirelessly, (b) how to map the functions of body organs or body processes onto specific neurons or nerves, (c) how to use biosensing to regulate the therapy, (d) how to guarantee the safety and security of the users. New results and state-of-the-art works that try to tackle several of these aspects are continuously being reported. Overall, combined efforts from different fields are necessary to make these systems a reality.
Footnotes
1
Flat interface nerve electrode
2
Slowly penetrating interfascicular nerve electrode
3
Longitudinal intrafascicular electrode
4
Transverse intrafascicular multichannel electrode
Declarations
Acknowledgements
The authors would like to acknowledge the contribution of the whole team of the Section Bioelectronics of Delft University of Technology. The fruitful discussions have been invaluable to the shaping of the ideas and views discussed in this paper.
Authors' contributions
VG conceived the idea for the paper, collected the relevant literature, and wrote the paper with input from WS. Both authors discussed, reviewed and approved the manuscript.
Authors' information
VG is Assistant Professor of Bioelectronics at Delft University of Technology, Delft, The Netherlands, and she is also leading the group Technologies for Bioelectronics, at Fraunhofer Institute for Reliability and Microintegration IZM, Berlin, Germany. Between her two affiliations she is carrying out research on the design and fabrication of active implantable microsystems. WS is full Professor at Delft University of Technology, Delft, The Netherlands where he heads the Section Bioelectronics. His research interests are on integrated biomedical circuits and systems. He is an IEEE Fellow, an IEEE Distinguished Lecturer and a mentor of the IEEE.
Ethics approval and consent to participate
Not applicable.
Consent for publication
Not applicable.
Competing interests
The authors declare that they have no competing interests.
Publisher's Note
Springer Nature remains neutral with regard to jurisdictional claims in published maps and institutional affiliations.
Open AccessThis article is distributed under the terms of the Creative Commons Attribution 4.0 International License (http://creativecommons.org/licenses/by/4.0/), which permits unrestricted use, distribution, and reproduction in any medium, provided you give appropriate credit to the original author(s) and the source, provide a link to the Creative Commons license, and indicate if changes were made. The Creative Commons Public Domain Dedication waiver (http://creativecommons.org/publicdomain/zero/1.0/) applies to the data made available in this article, unless otherwise stated.
Authors' Affiliations
(1)
Section Bioelectronics, Department of Electrical Engineering, Mathematics and Computer Science, Delft University of Technology, Delft, The Netherlands
(2)
Technologies for Bioelectronics Group, Department of System Integration and Interconnection Technologies, Fraunhofer Institute for Reliability and Microintegration IZM, Berlin, Germany