Review of the role of the nervous system in glucose homoeostasis and future perspectives towards the management of diabetes
Bioelectronic Medicine
2018
4:9
Received: 8 March 2018
Accepted: 10 June 2018
Published: 4 July 2018
Abstract
Diabetes is a disease caused by a breakdown in the glucose metabolic process resulting in abnormal blood glucose fluctuations. Traditionally, control has involved external insulin injection in response to elevated blood glucose to substitute the role of the beta cells in the pancreas which would otherwise perform this function in a healthy individual. The central nervous system (CNS), however, also plays a vital role in glucose homoeostasis through the control of pancreatic secretion and insulin sensitivity which could potentially be used as a pathway for enhancing glucose control. In this review, we present an overview of the brain regions, peripheral nerves and molecular mechanisms by which the CNS regulates glucose metabolism and the potential benefits of modulating them for diabetes management. Development of technologies to interface to the nervous system will soon become a reality through bioelectronic medicine and we present the emerging opportunities for the treatment of type 1 and type 2 diabetes.
Keywords
Diabetes management
Bioelectronic medicine
Neuromodulation
Insulin sensitivity
Pancreatic secretion
Background
Diabetes is a chronic metabolic disease which results in elevated blood glucose. It currently affects over 422 million people worldwide and is forecast to be the 7th leading cause of death in 2030 (World Health Organization 2016). Persistent elevated glucose levels (hyperglycemia) due to insufficient treatment is of increasing concern given its association with a number of secondary complications such as ketoacidosis, blindness, nephropathy and heart disease (Nathan 2014). Furthermore, current treatments have also been shown to increase the frequency of low blood glucose (hypoglycemia) (Cryer et al. 2003), therefore impacting the quality of life of the sufferers. As a result, significant efforts have been focused over the last decade on improving diabetes management through the introduction of technology to reduce hyper and hypoglycemia.
Diabetes is generally classed as type 1 or type 2 depending on the cause of the disease. Type 1 diabetes is an autoimmune disease that causes destruction of the pancreatic β-cells. This results in the absence of insulin secretion, the hormone responsible for glucose absorption, and therefore poor regulation of plasma glucose levels. Throughout the years, several techniques have been developed in order to improve the control of glucose for type 1 diabetes. The most widely adopted approach relies on external subcutaneous injection of insulin through the use of an insulin pen or infusion pump (Haidar et al. 2015). However, this method is still open-loop (i.e. it is not an automated system) that requires a lot of manual effort from the user and, as a result, most patients still have suboptimal glycemic control (Barnard et al. 2015). Alternatively, systems that respond to changes in blood glucose concentrations by automatically modulating insulin delivery have been developed. These are known as automated closed-loop insulin delivery systems, also described as an artificial pancreas (AP), and their use has resulted in improved glucose control and reduced risk of nocturnal hypoglycemia in comparison with previous techniques (Haidar et al. 2015). However, challenges such as the delay of insulin action during meals as a result of the subcutaneous infusion (Gingras et al. 2018) or the hypoglycemic events induced by exercising (De Bock et al. 2017), still have to be resolved in order to achieve the best glycemic control.
The second class of diabetes, type 2, is characterised by a chronic hyperglycemia resulting from defects in insulin action, which leads to a reduction of insulin sensitivity and insulin resistance. As a result several methods have been developed to try to modulate insulin sensitivity in these patients with the aim of reversing the disease. Among them, changes in nutrition and exercise (Weickert 2012) and drug therapies oriented to take control over the inflammatory processes that underlie the insulin resistance (Lamb and Goldstein 2008) are the most widely studied treatments. However, as reviewed by Gao and Ye (2012) the efficacy of anti-inflamatory treatments has not been proven (Gao and Ye 2012).
The challenges encountered in diabetes management are a consequence of the great complexity of the biological mechanisms for glucose control. In fact, many biological substances in addition to insulin, such as other hormones and neurotransmitters, interact with each other to ensure a robust and tight regulation of the glucose in the blood (Chandra and Liddle 2009). In particular, the brain, acting through the peripheral innervation to the different organs, has been found to have a crucial role in maintaining glucose homoeostasis. Evidence of this important glucose regulation mechanism dates back to the work of the physiologist Claude Bernard, who for the first time showed a causal relationship between brain stimulation of the fourth ventricle in the hindbrain and an increase in plasma glucose levels (Bernard 1865). It is therefore not surprising that recent research in the field of diabetes has been exploring the neural mechanisms that are involved in glucose control, initiating new perspectives for studying both type 1 and type 2 diabetes (Chandra and Liddle 2014; Rodriguez-Diaz and Caicedo 2014; Rosario et al. 2016).
Within this context, over the last few years, a novel emerging field called bioelectronic medicine has been introduced as an alternative treatment to using pharmaceuticals. Bioelectronic medicine uses electrical stimulation to modulate the neural activity of peripheral nerves, which in turn target specific organs and evoke a response towards treating a specific disorder or restoring lost biological functions (Birmingham et al. 2014). It has been successfully demonstrated in the treatment of traumatic brain injury, stroke and inflammatory disease (Koopman et al. 2014; Levine et al. 2014; Sundman and Olofsson 2014; Borovikova et al. 2000). Following this trend, we believe that advances in technologies for modulating the neural pathways that are involved in controlling glucose homoeostasis and the hormonal secretion by the pancreas may also soon become a reality and thus bioelectronic medicine could become a viable option for the treatment of diabetes.
Towards this objective, this comprehensive review shows that there is potential for improved glucose homeostasis using bioelectronic medicine by identifying the various areas in the central and peripheral nervous system which could impact glucose control. In the first part, we provide an overview of the central nervous system's regions and signalling mechanisms that are involved in glucose homeostasis. We focus especially on their impact on insulin sensitivity (i.e. the effect of insulin in the balance of glucose production and uptake). The second part focuses on the control of hormonal secretion by the endocrine pancreas through the peripheral nervous pathways. Each section is followed by a discussion on the therapeutic opportunities of electrically modulating (either via stimulation or inhibition) these brain regions and peripheral pathways for diabetes management.
Overview of the role of the CNS in control of glucose homeostasis
Principal CNS regions and neuronal populations
One of the brain areas that is most involved in the regulation of glucose homeostasis is the hypothalamus, located in the diencephalon (
Zhang and van den Pol 2016
). To have a better understanding of its physiology and role in glucose homeostasis, it is important to briefly present its anatomy. There are eleven major nuclei in the hypothalamus (see Fig.
1
). Four of them have been found to have key roles in neuroendocrine regulation: i) the arcuate nucleus (ARC), located next to the third ventricle in the mediobasal hypothalamus, ii) the paraventricular nucleus (PVN), located in the periventricular zone, iii) the ventromedial nucleus of the hypothalamus (VMH), and iv) the lateral hypothalamic nucleus (LHN) (Broberger and Hökfelt
2001
; Shin et al.
2017
; Williams et al.
2001
). The suprachiasmatic nucleus (SCN), involved in circadian timing, as well as the anterior and preoptic nuclei, involved in control of the autonomic nervous system, have also been proven to play a role in the control of energy homeostasis (Dougherty
2018
). In addition to the hypothalamus, there are other brain regions, such as the brainstem, that contain nuclei which are also implicated in the regulation of the body's energy homeostasis (
Williams et al. 2001
).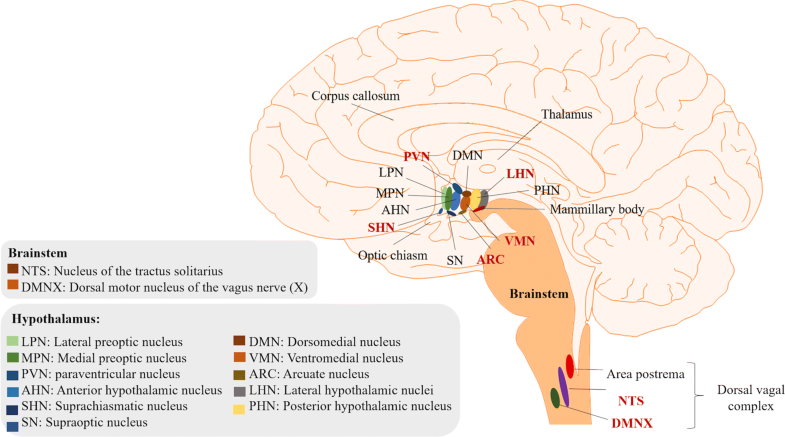 Metabolic and hormonal signalling in the brain
Therapeutic opportunities for affecting insulin sensitivity through central nervous system stimulation
Table
1
summarizes the many opportunities for glucose control and diabetes management arising from modulating the activity of the central nervous system, which could be used in the future as therapies through bioelectronic medicine. Different central pathways are involved in regulating the same processes in the liver and other peripheral tissues. In particular, this review has focused on the brain-related mechanisms and neuronal populations that control hepatic glucose production and peripheral glucose uptake as both of them have an impact on insulin sensitivity (
S
I
).
Table 1
Central mechanisms involved in glucose homeostasis and benefit of modulating them for diabetes management
| Region | Population of neurons | Peripheral mechanisms | Impact on glucose homeostasis | Ref. | Opportunities for diabetes management |
| --- | --- | --- | --- | --- | --- |
| ARC | AgRP | Food entrained oscillator | Regulate feeding behaviour | | Predicting cephalic phase |
| | AgRP→aBNST6vl | ↑ BAT myostatin expression | Insulin resistance | (Steculorum et al.2016) | Control of SI |
| | ARCAgRP→LHN | ↑ Appetite | ↑ G(t) | (Steculorum et al.2016) | Control of food intake |
| | AgRPIR | ↓ Hepatic vagal tone | ↓ HGP ⇔ Peripheral glucose uptake | | Control of hepatic SI |
| | NPY | ↑ Appetite | ↑ G(t) | | Control of food intake |
| | | ↑ Hepatic sympathetic tone | ↑ HGP | | Control of hepatic SI |
| | NPY→PVNTH | ↓ Sympathetic tone | ↓ BAT thermogenesis | | - |
| | POMC | ↑ Sympathetic tone | ↑ WAT lypolisis | | - |
| | | MC4R mutations | Insulin resistance | | Control of SI |
| | P O M C I R | Impaired insulin action | ↑ WAT lipolysis | | Control of SI |
| | TH | ↑ Appetite | ↑ G(t) | (Zhang and van den Pol 2016) | Control of food intake |
| VMH | V M H S F1 | - | ↑ Glucose uptake ↑ HGP | | Control of hepatic SI |
| | | ↑ Glucagon ⇔ Insulin | ↑ G(t) | (Shimazu and Ishikawa 1981; Stanley et al.2016; Shimazu and Ishikawa 1981) | Control of hypoglycemia |
| | V M H G l u t | ↑ Sympathetic tone | ↑ HGP ↑ Tissue uptake | (Shimazu et al. 1966; Gellman et al. 1981; Coutinho et al. 2017) | Control of blood glucose levels |
| | | ↓ Glutamatergic metabolism | ↓ Response to hypoglycemia | (Chowdhury et al.2017) | Control of hypoglycemia |
| LHN | LHN | ↑ Parasympathetic tone | ↓ HGP | | Control of blood glucose levels |
| | L H N M C4 R | ↑ Sympathetic tone | ↑ BAT glucose uptake | | Control of SI |
| SCN | SCN→PVN | ↑ Sympathetic tone | ↑ HGP | | Control of hepatic SI |
In diabetes, activation or inhibition of the neural activity of these neuronal populations (see Table 1) could be used to achieve glucose homeostasis. For example, through modulation of the neural signals we could control the course of insulin-independent and insulin-dependent mechanisms (i.e. influencing the effectiveness of insulin, SI) of hepatic glucose production and glucose uptake to reach optimal glucose control. This is very important for type 1 diabetes, where there is not an endogenous production of insulin from the pancreas. In these subjects, the insulin that is needed to lower glucose levels after a meal intake is externally delivered by either an insulin pen or a pump. In this case, modulation of the neural signalling pathways could increase the effect of exogenous insulin in lowering blood glucose and we would be able to reduce post-prandial glucose excursions, therefore reducing hyperglycemia. In addition, external stimulation of hypothalamic regions such as the VMH glutamatergic circuitry could help to reduce hypoglycemic events in type 1 diabetic subjects. This would be achieved as its activation promotes activation of hepatic gluconeogenesis and glucagon release from the pancreas, which elevate blood glucose levels.
As it has been previously explained and outlined in Table 1, the brain regions that have been presented in this review exert their action through sympathetic and parasympathetic pathways to the organs. Therefore, the same impact on glucose homoeostasis and diabetes control could be achieved by directly modifying their firing activity. Despite the potential benefits of using bioelectronic medicine in this sense, there are still many limitations that need to be overcome before becoming a reality in diabetes treatment. Among them, acquiring a full understanding of the exact relationship between the activity of the brain regions and their impact on glucose levels stands out.
Review of the peripheral neural mechanisms that directly control the endocrine pancreatic function
As previously mentioned, glucose-sensing cells located at different anatomical sites, including the oral cavity, the gut, the hepatoportal vein area, the brainstem and hypothalamus are linked together through nervous connections to ultimately control the activity of the autonomic nervous innervation of the endocrine pancreas. This innervation not only controls glucagon and insulin secretion but also α and β-cell number and proliferation (Thorens 2011; 2010).
There are two major pathways identified in regulating islet secretion, parasympathetic and sympathetic (see Fig.
2
). There are other branches formed by sensory nerves, nitric oxide and CCK nerves that are also suggested to take part in regulating the pancreatic function, but the mechanisms are unclear (
Ahrén 2000
).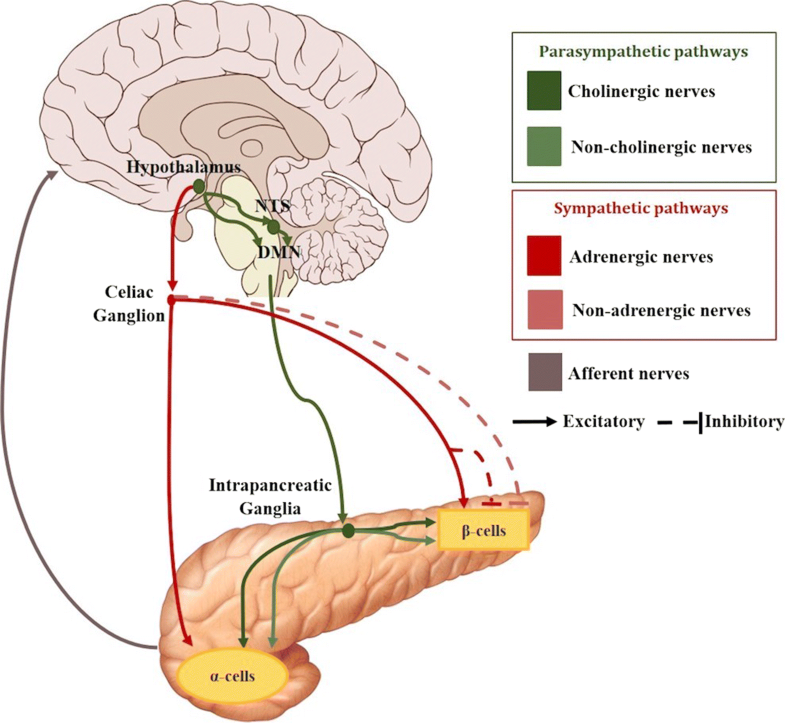 Two main parasympathetic mechanisms can be found: cholinergic regulation via release of acetylcholine (ACh) and non-cholinergic mechanisms mediated by neuropeptides such as vasoactive intestinal polypeptide (VIP), pituitary adenylate cyclase activating polypetide peptide (PACAP), or gastrin-releasing peptide (GRP). These neurotransmitters bind to specific receptors that are present on β-cells and α-cells.
Regarding the cholinergic pathway, it is formed by preganglionic fibres that originate in the dorsal motor nucleus of the vagus nerve (DMNX). These fibres then travel to the pancreas within the bulbar outflow tract and the hepatic and gastric nerves of the vagus. They synapse afterwards with cholinergic postganglionic fibres in the intrapancreatic ganglia. These nerves finally reach the islets enhancing insulin and glucagon secretions (Thorens 2011; Berthoud and Powley 1990; Gilon and Henquin 2001). Retrograde transsynaptic labeling with pseudorabies viruses has allowed to acquire a better understanding of the parasympathetic neuronal circuit innervating the pancreas and a link has been reported between the vagal nerve and the paraventricular nucleus (Thorens 2011; Jansen et al. 1997). These regions are also directly innervated by arcuate nucleus NPY and POMC neurons, suggesting a great implication of this area in the parasympathetic control of insulin secretion. In fact, intracerebroventricular administration of NPY rapidly induces insulin secretion through mechanisms that can be suppressed by vagotomy (Thorens 2011). When the vagus nerve is stimulated, the terminals of the preganglionic nerves in the intrapancreatic ganglia, release acetylcholine to the synapse within the postganglionic nerves. The latter have nicotinic receptors that bind with the acetylcholine, which in turn causes the release of acetylcholine from their terminals within the islets (Sha et al. 2001; Stagner and Samols 1986).
Focusing on insulin secretion, many studies have described that electrical stimulation of the vagus nerve, in conditions of slight hyperglycemia, stimulates its release from the β-cells (Berthoud et al. 1980; Kaneto et al. 1975; Frohman et al. 1967). This has to do with the fact that pancreatic β-cells present muscarinic receptors (m3AChR) that bind to the released acetylcholine eliciting the hormone secretion (Ahrén 2000; Berthoud and Powley 1990; Gautam et al. 2006; Verspohl et al. 1990). The parasympathetic tone to the endocrine pancreas can also be increased by lesions of the ventromedial hypothalamus, which lead to increased β-cell proliferation and mass (Niijima 1986; Kiba 2004; Kiba et al. 1996), confirming that both total β-cell number and secretion activity can be regulated by vagal control.
In particular during the first phase of secretion, a nervous reflex involving glucose sensing from different locations is key in enhancing insulin release (
Thorens 2011
;
Berthoud et al. 1981
). As an example, glucose in the oral cavity and, after its intestinal absorption, in the hepatoportal vein area, induces insulin secretion by a mechanism that increases the firing rate of vagal afferent nerves that project from the taste buds and the hepatoportal vein respectively to the brainstem and hypothalamus, which can be suppressed by vagotomy (see Fig.
3
) (Berthoud et al.
1981
; Berthoud et al.
1980
; Berthoud and Jeanrenaud
1982
; Thorens
2001
). Moreover, as previously described, glucose injections in neurons of the arcuate and paraventricular nuclei have also been found to activate insulin secretion (
Guillod-Maximin et al. 2004
). Likewise, there are studies that reveal an increase in the secretion of glucagon after vagal stimulation in several species (
Niijima 1986
;
Verspohl et al. 1990
) including humans (
Thorens 2011
;
Bloom et al. 1974
). Parasympathetic non-cholinergic mechanisms are also suggested to contribute to the release of both insulin and glucagon in vivo and in vitro in several species including humans (
Ahrén 2000
). Thus, it appears that both cholinergic and non-cholinergic mechanisms enhance islets' hormone secretions through vagal stimulation (
Ahrén 2000
).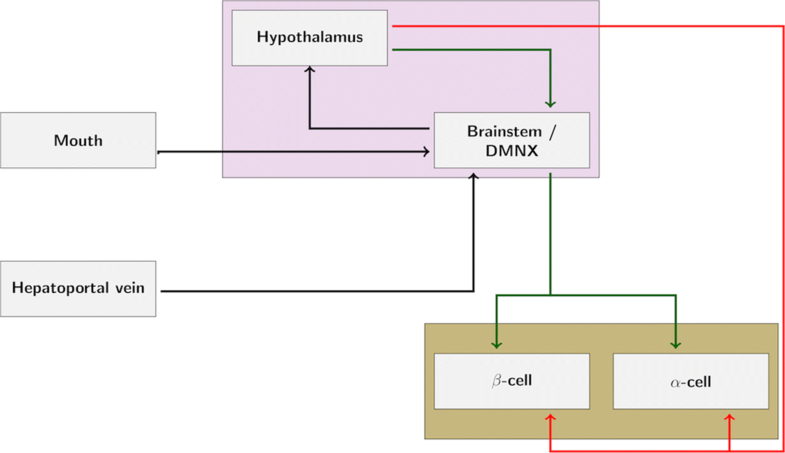 Focusing now on the sympathetic pathways, sympathetic nerve endings contain norepinephrine (NE), called adrenergic nerves, but also neuroptide Y and galanin, called non-adrenergic nerves. Sympathetic preganglionic nerve fibres originate in the hypothalamus and leave the spinal cord at levels C8 to L3. Then, they pass through the lesser and greater splanchnic nerves to reach the celiac and mesenteric ganglia, where they synapse with the postganglionic fibres which enter the pancreas along the blood vessels. However, preganglionic sympathetic nerve fibres can also directly enter the pancreas without a ganglionic synapse (Ahrén 2000; Gilon and Henquin 2001; Brunicardi et al. 1995). There are two major sympathetic pathways: the adrenergic and non-adrenergic pathways.
Electrical stimulation of adrenergic nerves have been demostrated to elicit a large release of noradrenaline into the pancreatic veins, which act through α-adrenoceptors to inhibit both basal and glucose-stimulated insulin secretion (Thorens 2011; Verspohl et al. 1990). On the other hand, noradrenaline can also stimulate insulin secretion by two different actions. Firstly, through the activation of the islet β2-adrenoceptors, which stimulates insulin secretion. Secondly, through direct action on the α-cells which stimulates glucagon secretion, that, in turn, also eventually stimulates insulin release. Therefore, the net effect of noradrenaline on insulin secretion might depend on the relative activity of the two types of receptors on the β-cells and on the action through glucagon (Westfall 1984), but the overall effect is an inhibition of insulin release. The non-adrenergic influence of the inhibitory action of sympathetic nerves on insulin secretion is thought to be mediated by galanin and NPY. However, after an electrical activation of the sympathetic nerves, these neuropeptides have a great range of responses depending on the species (Thorens 2011; Ahrén 2000).
The sympathetic nervous system plays a predominant role in stimulating glucagon secretion, through activation of the α-cell β2-adrenergic receptors (Thorens 2011; Verspohl et al. 1990). Similarly to the nervous reflex described in insulin secretion, there are studies suggesting a direct involvement of both central and peripheral glucose sensors in the control by the autonomic nervous system of α-cell secretion activity (see Fig. 3) (Thorens 2011). In particular, activation of the sympathetic response depends on hypoglycemia detection at several sites. For example, the hepato-portal vein region contains glucose sensitive nerve terminals that can control glucagon secretion as indicated by the fact that portal vein glucose infusion can suppress hypoglycemia-induced increase in plasma glucagon (Hevener et al. 2000).
Therapeutic opportunities for affecting pancreatic endocrine function through peripheral nerve stimulation
Table
2
summarizes the opportunities that exist for improving glucose control by modulating the neural information that the brain sends to the pancreas. This can be particularly desirable in situations where glucose control in diabetic subjects is challenging with exogenous insulin or oral medications. Examples of these situations include ingestion of a meal which would cause glucose to rise or exercise which would cause glucose to lower. In the latter, for example, a prompt inhibition of insulin secretion and a promotion of secretion of counterregulatory hormones (such as glucagon or epineprhine) before starting exercise can considerably improve the control of glucose levels and reducing the risk of hypoglycemic events, especially for type 2 diabetes. In addition, hypoglycemia is usually a side effect of treatment with blood-sugar-lowering medication, such as insulin therapies in both types of the disease (
Zammitt and Frier 2005
;
McCrimmon and Sherwin 2010
). This limitation can be overcome by initiating a fast response that increases glucose levels. Moreover, in type 1 diabetes patients, meal intake surprisingly results in an increase of glucagon secretion, which contributes to hyperglycemia and makes the control of glucose fluctuations challenging (
Hughes and Narendran 2014
). Some studies have hypothesized that this occurs because there is not an increase of insulin secretion that makes the
α
-cells reduce the release of glucagon (
Abdul-Ghani and DeFronzo 2007
). Therefore, inhibition of the neural pathways that promote glucagon secretion or stimulating those that inhibit its release when food is ingested, could allow improved control of glucose during meals in these patients.
Table 2
Peripheral pathways involved in pancreatic secretion and benefit of modulating them for diabetes management
| Peripheral pathway | NT | Pancreatic receptor | Impact on endocrine pancreas | Impact on glucose homeostasis | Opportunities for diabetes management |
| --- | --- | --- | --- | --- | --- |
| Parasympathetic | ACh | Muscarinic receptors (m3AChR) | ↑ insulin ↑ glucagon ↑ β-cell number | ↓ postprandial glucose levels | Tighter control of glucose levels and preparation of the body to meals |
| | VIP, PACAP, GRP | VIP, PACAP, GRP | ↑ hormonal secretion (less studied) | - | - |
| Sympathetic | | β-cells α-adrenoreceptors | Inhibit basal & glucose-dependent insulin secretion | ↑ glucose levels | Reduction of hypoglycemia |
| | NE | β-cells β-adrenoreceptors | ↑ insulin secretion | ↓ glucose levels | Reduction of hyperglycemia |
| | | α-cells β2-adrenoreceptors | ↑ glucagon ↑ insulin | ↓ glucose levels | Control of glucose homeostasis |
| | Galanin & NPY | Specific receptors | Great range of responses | - | - |
In this context, further research to specifically activate the type of receptors that cause the desire response is needed. This is particularly important in stimulating or inhibiting the sympathetic nerves, because the observed outcome in glucose greatly varies depending on the receptor to which noradrenaline is linked (see Table 2).
Conclusion
In this review, a general overview of all the neural mechanisms by which the brain directly and indirectly controls glucose homoeostasis have been presented as a new perspective for studying metabolic diseases. In particular, the nervous system has a significant role in i) the liver, by managing glucose production, lipolysis and glucose uptake, ii) the glucose utilization by peripheral tissues, including the brown and white adipose tissue and muscle, and iii) the hormone secretion by the endocrine pancreas. In addition, the possibility of modulating insulin sensitivity through chemical and/or electrical stimulation of particular brain regions (particularly in the hypothalamus) and autonomic nerves (both sympathetic and parasympathetic) has been given particular consideration.
To date, there is only a rough understanding of the physiological mechanisms beneath this neural-metabolic interaction. Hence, more research is needed to develop the previously mentioned therapies, starting from establishing the direct quantitative effect of neural stimulation on both the insulin sensitivity and pancreatic secretion (Tang et al. 2018). Such studies are also expected to increase our knowledge of the neural mechanism of insulin sensitivity and pancreatic secretion, and consequently, glucose homoeostasis.
This review provides the starting point for the development of new therapies in the field of bioelectronic medicine for diabetes management. We foresee that in the future miniaturized devices will be implanted at selective nerve fibres or brain areas to modulate their electric signals and treat this endocrine disorder. In fact, over the last years novel treatment strategies for type 2 diabetes based on electrical stimulation of peripheral nerve fibres have been investigated. The work in this field has mainly occurred in terms of establishing the effect of the neurostimulation in food intake (Zhang and van den Pol 2016; Steculorum et al. 2016) and, recently, in restoring insulin sensitivity (Sacramento et al. 2018). We propose to extend this idea by using well defined electrical signals to modulate insulin sensitivity for type 1 diabetes treatment. In addition, the neural information obtained from recordings either from specific brain regions or peripheral nerves can be incorporated as an input in current close-loop controllers (Herrero et al. 2012). This may significantly improve glucose control, in particular during difficult-to-control events such as meals. We hope that our focused effort in this new emerging field will stimulate new ideas and directions in diabetes management.
Abbreviations
α-MSH:

α-melanocite-stimulating hormone
ACh:

Acetylcholine
ACTH:

Adrenocorticotropic hormone
AP:

Artificial pancreas
APF:

Action potential frequency
ARC:

Arcuate nucleus of the hypothalamus
BAT:

Brown adipose tissue
BCAA:

Branched-chain amino acids
BCKDH:

Branched-chain alpha-keto acid dehydrogenase
CNS:

Central nervous system
DMNX:

Dorsal motor nucleus of the vagus nerve
FA:

Fatty acid
G(t):

Plasma glucose levels
GE:

Glucose excited
GI:

Glucose inhibited
GIR:

Glucose infusion rate
GRP:

Gastrin-releasing polypeptide
HGP:

Hepatic glucose production
HPT:

Hypothalamic-pituitary-thyroid
LC:

Locus coeruleus
LHN:

Lateral hypothalamic nucleus
MC2R:

Melanocortin 2 receptor
MC3R:

Melanocortin 3 receptor
MC4R:

Melanocortin 4 receptor
Mstn:

Myostatin
NE:

Norepinephrine
NEFAs:

Non-essential fatty acids
NPY/AgRP:

Neuropeptide Y/agouti-related peptide
NTS:

Nucleus of the tractus solitarius
PACAP:

Pituitary adenylate cyclase activating polypeptide
PEPCK:

Phosphoenolpyruvate carboxykinase
PK:

Piruvate kinase
POMC/CART:

Pro-opiomelanocortin/cocaine-amphetamine related transcript
PVN:

Paraventricular nucleus
SCN:

Suprachiasmatic nucleus
SI:

Insulin sensitivity
SNA:

Sympathetic nerve activity
TH:

Tirosine hydroxylase
VIP:

Vasoactive intestinal polypeptide
VMH:

Ventromedial nucleus of the hypothalamus
WAT:

White adipose tissue
Declarations
Acknowledgements
The authors would like to acknowledge the Rafael del Pino Foundation for supporting AG during this work.
Funding
Supported by a grant from the Rafael del Pino Foundation (Excellence scholarship 2017).
Authors' contributions
AG carried out the literature research and was a major contributor in writing the manuscript. PG contributed in writing the manuscript. All authors read and approved the final manuscript.
Ethics approval and consent to participate
Not applicable.
Consent for publication
Not applicable.
Competing interests
The authors declare that they have no competing interests.
Publisher's Note
Springer Nature remains neutral with regard to jurisdictional claims in published maps and institutional affiliations.
Open Access This article is distributed under the terms of the Creative Commons Attribution 4.0 International License(http://creativecommons.org/licenses/by/4.0/), which permits unrestricted use, distribution, and reproduction in any medium, provided you give appropriate credit to the original author(s) and the source, provide a link to the Creative Commons license, and indicate if changes were made. The Creative Commons Public Domain Dedication waiver(http://creativecommons.org/publicdomain/zero/1.0/) applies to the data made available in this article, unless otherwise stated.
Authors' Affiliations
(1)
Centre for Bio-Inspired Technology, Department of Electrical and Electronic Engineering, Imperial College London, London, UK